If you have a potential forgery problem, or a disputed document, we can help. The Handwriting Experts / Document Examiners on this site are pre-screened qualified professionals who can detect forgeries, identify anonymous writing, authenticate documents, and stand firm on the witness stand to help you win your case.
Attorney Recommended.
Highly Trained, Certified, Court Qualified, and Courtroom Experienced.
You can speak to the document examiner before you officially retain, to confirm he or she is a good fit for your case.
Flat Rate for each document, no billing surprises, ever.
Professionally Written Reports ready in as little as 2-5 days.
We can review all types of documents via email or originals under a microscope, if available. Not all cases have originals. Copies can be utilized.
Some of our handwriting expert's rates are less than industry averages. Plus... you have the option of a low flat-rate or an attorney retainer billing option. You can talk to us before you decide to retain. Our experts build long-term relationships with our clients, so customer service is the cornerstone of our success.
Many of our handwriting experts are nationally known for commentary of such shows as Larry King Live, Fox News, Court TV, and The Today Show on NBC and have appeared in articles in the Wall Street Journal and USA today.
Hire one of the following qualified handwriting experts today. Call for a free consultation or speak to any expert listed on this page.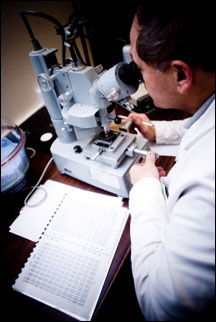 Forgery Detection is a complicated and skilled profession which takes years of training. The handwriting experts on this page are qualified to help you solve your case. We work with attorneys, individuals, and corporations internationally.
---
Our handwriting experts render opinions in cases involving disputed wills, deeds, contracts, forged checks, anonymous or threatening letters, and much more.
Our experts will consult with you or your attorney on how to best present the handwriting documents so that you have a better chance of winning your case. Our experts are highly experienced expert witnesses with over 5000 cases between them.
List Of Recommended Experts Listed by Region

Both attorneys and non-attorney clients can speak with any of our recommended forensic document examiners before you make the decision to retain them and review your documents.
Real Customer's Comments Our Forensic Document Examiner
"Wanted to let you know ... I spoke to my Tax Attorney earlier today and he reiterated that the IRS Revenue Officer was further persuaded in his decision to grant the separation of my liability from my ex-husband's because of your finding that my signature had been forged on the tax return.' As my attorney put it, 'That was money well spent'. I thank you so much for that." - Susan Stalker, San Ramon, CA

"I never thought I'd need a handwriting analysis expert. You have saved my marriage and my Army career! It was really hard to prove when a forger signed my name and made it look like I did it! Thanks to you the truth will prevail. Thanks a million again and again!" - Charles Barber Ft Polk, Louisiana
Our examiners render opinions in cases involving disputed wills, deeds, contracts, forged checks, anonymous or threatening letters, and much more.
Frequently Asked Questions we will answer when you call.
>> What exactly does a handwriting expert / forensic document examiner do?
>> How much does a forensic document examiner charge to render an opinion?
>> Why should I hire one of the above recommended experts?
>> What training does a forensic document experts have to have in order to testify in a court of law?
>> Can I just email you the handwriting samples, or must you have the originals?
>> Will this opinion be accepted in a court of law?
>> How much will it cost to have you come to court and testify live in person?
>> Are your prices higher, lower, or the same as other "forensic document experts" around the nation?
>> Why should I hire one of your certified experts, instead of another less experienced examiner.?
>> Is there any specific questions I should ask before making a decision on which expert to hire?
All these questions and more can be answered by simply calling one of the above experts. Your first conversation will take place without a fee, so you can make sure you are hiring the right expert for the job.
How to Hire An Expert Video Tutorial
Real Customer's Comments Our Handwriting Experts
"The Expert assigned me was the best expert witness I've ever worked with. What's more, he successfully testified for my client via telephone in a live trial here in Alaska. He even "consulted with me" on how best to cross-examine the defense's document examiner. We won the trial and I recommend him whole heartedly." — Jim Fry, Attorney, Anchorage, Alaska

"Thank you very much for your assistance in this matter. Your opinion letter may become enough to prevent a trial." Sandra G. Slater Phoenix, AZ (Non-Attorney)
Real Customer's Comments Our Experts
"I have no hesitation in recommending you in the future to all who need a handwriting expert as I could not have been more pleased with your services. I have enjoyed working with you and hope to do so again in the future. Should any prospective client of yours have questions they wold like to ask me concerning your work, I would certainly be willing to discuss the matter with them." Lawson Williams, Esq.
Real Customer's Comments Our Experts
"In my view, the conclusions you reached were measured, balanced, well-supported, and appropriate. Your testimony in court was credible and persuasive. I could not have imagined an individual more helpful or knowledgeable than yourself and I was very impressed with the quality of your work. You were excellent in every aspect. Emboldened by your facts and opinion, we were able to strongly assert our clients' position. Finally, your services were promptly and timely performed at a most reasonable charge considering all the work you have done." Sandra G. Slater Phoenix, AZ (Non-Attorney)
Real Customer's Comments Our Experts
"The criminals can take any information from any folder and the student will never know it. Bob warns that this includes credit reports, financial aid applications, and bank statements…" comment about Bob's book, Identity Theft–Protection for the College Student Executive Director, Eric Lambert
Call our office with questions, or a referral to a local forensic document examiner or handwriting expert.
Call Today 888-705-0099 for a Consultation.
We service clients worldwide.
H.S.I is part of the network of professional handwriting document examiner, handwriting analysis, handwriting experts, document examination, and forgery websites created and managed by Handwriting Services International. Privacy Policy